COIL PAPER WEIGMENT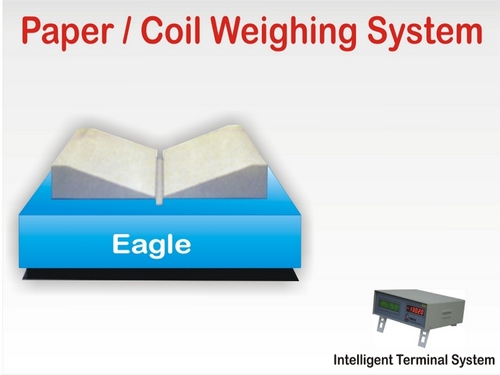 COIL PAPER WEIGMENT
Product Description
The scale is engineered to weigh Paper / coils operated by overhead cranes. These scales are provided to take heavy loads continuously. The coil saddle with Mild Steel top protects the paper / coil with a soft base, during loading on the scale.

The Scale can be directly placed on the existing floor and can also be shifted wherever necessary. The indicator can be mounted on a pole or on the wall and also can be interfaced with the computer.
Features & Benefits:
The Coil Scale offers the customer the same load cells that Weigh ZEMIC,USA -make uses for its scales.

Heavy duty load cells and cup & ball type load cell from ZEMIC, USA-make give perfect accuracy & reliability for years.

The microprocessor based electronic indicator is an extremely reliable and user- friendly weight indicator with a green & red vacuum fluorescent display.

The platform of the scale is robust to harsh environmental conditions. Depending on the space available, the customer is free to choose either a Surface Mounted Scale or a Pit Mounted Scale.

Heart of any electronic weigh scale, the load cell is heavy duty cup & ball type load cell. The simple, compact design and rugged hermetically sealed construction of the load cell assures long life.

The micro-processor based electronic indicator is an extremely reliable and user-friendly weight indicator. Fitted with green & red vacuum fluorescent display, the ESMW-1212/ESMW-1245 indicator is very flexible. Provided with a built in RS-232 communication, the indicator can be connected to a computer and printer very easily. This enables effective data management in combination with the Software

The software handles the process of weighing material. The application enables you to capture weight data, print weight tickets and reports. It stores the weight data for future processing and reporting. The software is simple to use and extremely user friendly. The main screen allows you to navigate to various functions, with the help of buttons and manuss